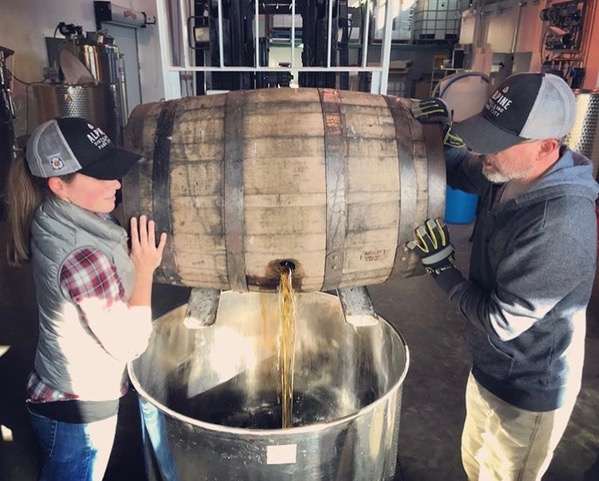 This feature is part 1 of a 2-part series. Enjoy and check back soon for our second installment of Spirited Women.

Women in the spirits industry are breaking new ground becoming distillery/brand owners and hands-on crafters. Working in a male-heavy industry, these ladies are paving the way for women to earn their rightful place as respected distillers as they forge their path with an uncompromised passion and an unwavering commitment for spirits.

Sara Sergent and her husband Rob co-founded Alpine Distilling in 2016, which is built on two natural aquifers in Park City, Utah so that no matter the season, they are able to pull fresh, pure Utah water for cutting their spirits.

The Sergent's distillery has produced two whiskeys and two liqueurs that earned them four SIP Awards in 2018, including a Double Gold medal for their gin which is personally crafted by Sergent herself.

"I'm happy to say that we were awarded Double Gold for our gin at this year's SIP Awards, which we value very highly," she said.


Sergent wanted her vision to have a deeper meaning for her family and her passion for distilling.

"Firstly, we wanted to build a business that added value to the place we chose to settle and raise our kids — many of our products have direct charitable contributions back to the community, and that is rewarding," she said. "I want to show my boys that with time, perseverance and dedication to a craft, one can make an award-winning product, no matter the gender."

Sergent believes female representation matters in the spirits competition and industry because "diversity levels out subconscious preferences that may exist and impact judgment," adding that "by consciously seeking diversity, SIP has assured that a product that does well stands a good chance of being well-received in the market."

"It's not that women have necessarily different tastes from men or that one is preferential," she clarified, "but by including a strong number of female judges to balance the voice of the men, we believe that SIP provides us the most honest and accurate perspective of our spirit's 'deliciousness.'"

Female representation in the spirits competition industry matters to many women, which is why SIP Awards has recruited consumer-judges at nearly a 50 percent ratio year after year. In comparison, the San Francisco World Spirits Competition was represented by 40 male judges and only eight female judges in 2018.

Sergent is aware of the difficulties that surround women in the spirits industry revealing that most people are surprised when she identifies herself as a distiller and a co-founder of a distillery.

"Throughout the history of craft spirits, women have always had a role in the production and manufacturing, even if rarely discussed," she said. "As more and more women craft incredible spirits and celebrate their perspective in the selection of grains, botanicals, and fruits, we will continue to influence and shape the spirits industry."

Family history dating back to the late 1700s reveals that the Sergents settled in Harlan, Kentucky where they began to turn corn into moonshine, according to Rob's grandparents, who are still alive in their 90s, Sergent said. "Pictures of family members on the farm and running moonshine stills in the woods are hung at the distillery and spark fun conversations with visitors who share their own tales."

Over the years, Sergent has had the privilege of meeting other female distillers and has felt a strong comradery within these peers, adding that her husband has been the greatest supporter of her efforts.

"For women who have an interest in crafting distilled spirits, I hope that I can serve as a resource for making the leap — it is a hard field but if you commit to a life of learning and work, it is incredibly rewarding to go to a bar and see strangers enjoying the spirit that you created," Sergent said with an undeniable sense of pride.,

"I am proud of what Alpine Distilling has accomplished so far, as we are over 40 percent female-driven, including two managers. I look forward as we continue to grow and to add more women to our team."