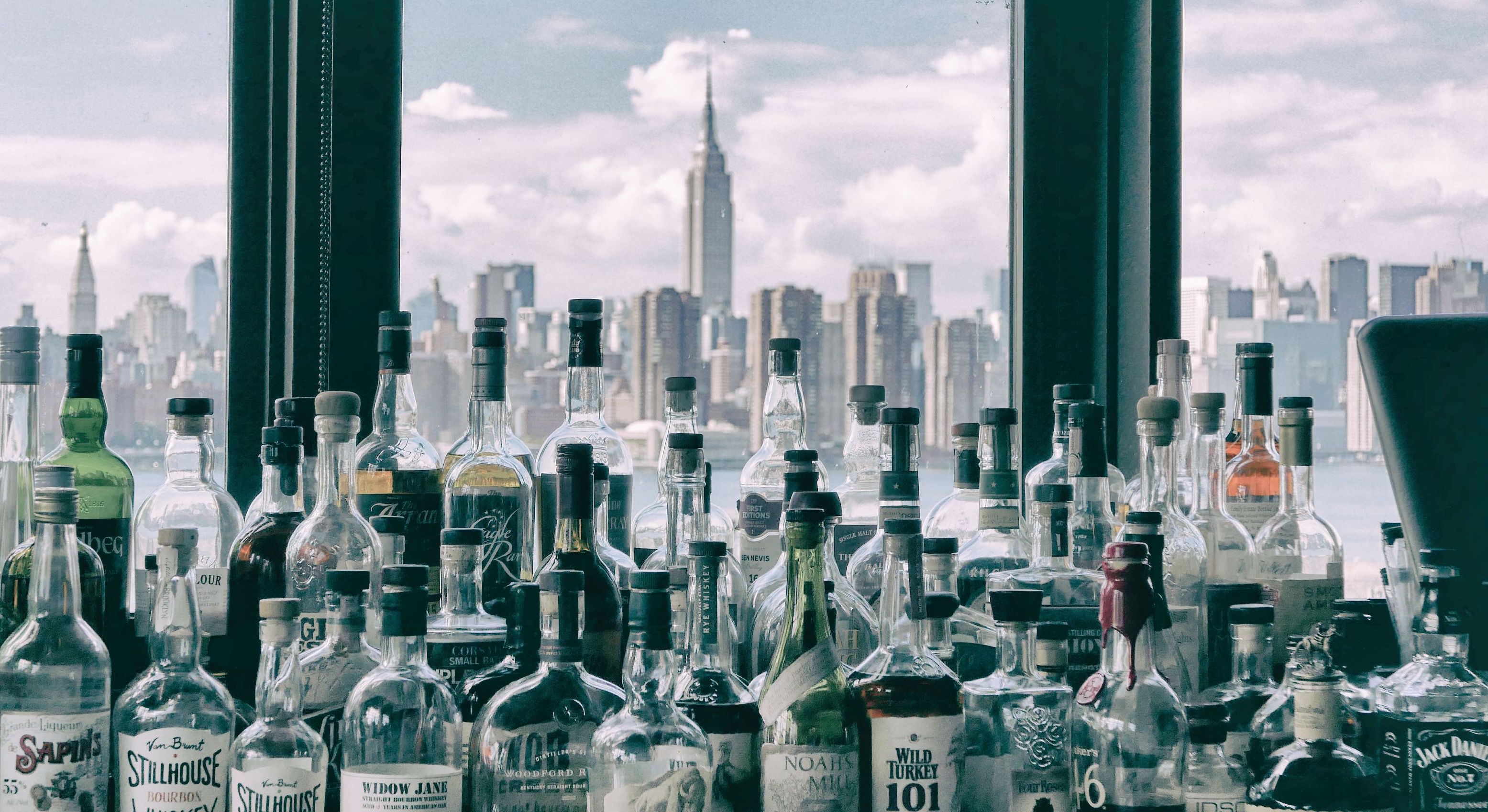 6 Strategies to Boost Brand Awareness for Your Spirit Brand
Picture this, a customer is pushing her shopping cart down the liquor aisle and just as she is contemplating her options the name of your spirit pops up in her mind.
For most of us, it would be a dream come true. 
In business utopia this is exactly what your marketing efforts should achieve -- an instant, top of mind awareness at just the right time. As a matter of fact, household brands like Coke routinely spend hundreds of millions of dollars every year to produce that timely recall in their customers.
The problem is, you do not have a few million dollars to devote to marketing. We get it and we are here to tell you that you don't have to break the bank to see skyrocketing sales and build a horde of raving fans. Keep reading to learn more about the 6 highly effective strategies that will generate solid results to show for your marketing efforts. 
1. Local Events, Sponsorships, and Partnerships
Every business began somewhere, literally, and that somewhere is a unique opportunity to focus your marketing. A great way to get your name out into your community and a bottle onto people's liquor shelves  is to sponsor and participate in local events.
Sponsorships
Steve Hill from the Fourth Source puts it:
Choosing an event that'll bring you into contact with a large amount of your key demographic, or an organization that'll reflect well on your reputation, can increase both the relevant reach, and standing, of your brand simply through association.

Sponsoring events, like trade exhibitions, or hobbies, like sports teams, immediately positions you as a brand with authority, and embodies you with the good favor of the event, without much effort on your part.
In other words, don't be shy about getting your brand out there! Spirits and local events go together like roasted peanuts at a baseball game. In fact, local event sponsorships remains one of the most popular ways for spirit brands to build awareness, drive sales, and build a loyal customer base.
Here are some examples:
The Lakefront Brewery in Milwaukee sponsors the Locust Street Festival of Music and Art annually. 

The Great Lakes Distillery hosts a weekly brewery tour that teaches people the history of spirits in America with samples of their spirits. 

Recently, the Duplin Winery put on their 41st Grape Stomp where people stomp grapes, dance to live music, and taste good wines.

Up in New York, local breweries, restaurant, and barrel maker gather to host the annual Whiskey Run.
Other ideas include grocery market tastings, catering drinks at a local art gallery, having a booth at a festival, or at local sporting events. 
It is also a good idea to bring some free shirts, stickers, brewery tour flyers, bottle openers, or whatever marketing collateral you have. After all, you want to take full advantage of the fact that your target audience is gathered in one place. 
Take a look at your city's event calendar and make plans have fun getting down with your town. 
2. Turn Social Engagement into Sales
Keep in touch with your audience
Social media, when done right, can be a valuable tool. According to the 2017 SIP Awards consumer statistics, 91 percent of spirit consumers are active on Facebook and 87 percent are active on Instagram. See the complete results here.
People are having conversations, sharing moments, and recounting experiences with your brand. Being a part of their conversations helps you build relationships with existing customers, show up on the feeds of their friends and family, and reach new customers. 
Best of all, it is easy to get started. 
Step 1. Do a search for your products and brand through hashtags on Facebook, Twitter, and Instagram, and Pinterest. 
Step 2. If people have questions, answer them. If people are talking about their experiences, respond with a comment, like, or a repost/tweet/pin. 
Step 3. A few suggestions from the marketing agency Ballentine, include:
Share behind-the-scenes photos on Instagram.

Instagram is a great social media platform for sharing eye-catching images and short videos. You can give customers a behind-the-scenes look at what goes on in your warehouse or office, or as you are putting a new product or service together. Offer relevant product tips through short videos that your followers can comment on and share with their social circles.

Hold relevant hashtag conversations on Twitter. 

Hashtags take conversations and split them into smaller, more relevant groups for easier conversations to occur. You can follow several industry-relevant hashtags to see real-time conversations that your customers are having and join in when you have something of value to add. Pick a hashtag of your own, spend a few days promoting it on Twitter, and then hold a group chat featuring that same hashtag.
Contests
Everybody enjoys a good contest which is great news for spirit brands. It is an easy and cheap way to attract attention, grow your hashtag, and position your spirit as a highly desirable product.
Generally, contests ask participants to submit a photo or video of them consuming the product. Alternative variations include asking folks to vote and/or suggest names, taglines, and designs for products. You can even run a meme contest to have people create picture memes with your product in it. The idea is the post with the most engagement wins the contest. 
The most important thing to remember is to selected hashtag, set some rules of submission, and a deadline. Brainstorm options with your staff and have fun with it! You might just end up trending on Twitter, Facebook, or Instagram. 
Giveaways
Giveaways work the same way as contests except you leave the judging in the hands of Lady Luck. People enter by posting a picture, video, or casting a vote. Then instead of looking at who had the most engagement on their post or who had the best post, everyone gets an equal opportunity to win through a raffle.
Build Influencer relationships
Influencers are people with social clout. They have built their own audience based on the niche content they produce. They are considered authority figures because of the social influence they exert on people through their follower count, focused content, and eye for quality in their niche. Basically, they have done the hard work of huddling a trusting audience around them that you can access, sometimes at the cost of a sample and shipping. 
The major advantages of having a feature on an influencer account is that it immediately increases your trustworthiness to potential customers and could be more cost-effective than running paid advertisements for a large audience. 
For spirit brands, influencers could be people with over 5K followers who regularly post alcohol-related content. This can include bartenders, drinking glass companies, or local lifestyle influencer who produce content around good food and drinks.
3. Tell Your Brand Story
Nobody can resist a good story. Not only are humans hardwired to pay attention to stories, it also helps brands build genuine connections with their audience and increasing sales. 
The leading marketing analytics solution, Kissmetrics connects the importance of stories to marketing success:
The net effect of comprehension, understanding, anticipation and receptivity is trust. By telling a story and connecting with the reader, a storyteller can actually generate trust in the reader.
As world-class digital marketer Neil Patel elaborates on Forbes:
As I've worked to build several businesses, I've discovered that sharing my brand's story is one of the most powerful and meaningful activities I could ever do...When someone is engaged like this, interested in your brand's story, they feel connected in a powerful way. This feeling of connection then turns them into customers.
Give your customers the chance to go from like to love by sharing your story with them. To learn more about developing an effective brand story, check out Kissmetrics' full article. 
4. Teach People to Love You
Most business owners have heard the phrase "Content is King". Unfortunately, many still are not sold on the value of creating interesting and relevant content. If you fall into the skeptical camp, we are here to explain the biggest reason behind the blogging madness. It is not just about establishing authority nor is it about improving your website's SEO.
The biggest reason is that you can teach people to care about your brand and love your products. 
On Entrepreneur.com, brand strategist Ryan Erskine gives the example of ties.com and how they used content to establish themselves as the go-to source for everything tie-related. 
Ties.com sells ties - skinny ties, bow ties, novelty ties. They're an ecommerce store with a love for ties. Simple, right? So how can ties.com provide increased value? By learning their customers' questions about ties and taking the time to answer them in a super helpful way. A quick peek at Google's Keyword Planner suggests that people search "how to tie a tie" 550,000 times each month. That's a huge opportunity.

So it's no wonder that ties.com decided to build a fantastically comprehensive tie-knotting guide that shows you exactly how to tie the most popular tie knots with helpful videos, descriptions and associated graphic instructions included.

In fact, their answer is so good that when you search "how to tie a tie," Google rewards ties.com by showing their answer in the knowledge graph at the top of the page. That means more customers get their questions answered, and it means increased traffic and sales on the ties.com website. 
There is a history and an art to what you do. Teach people about that history and the artistry that goes into making your spirits special. Then allow the power of good content go to work for your brand year after year. 
5. Be Everywhere on a Budget
When you appear everywhere a customer looks, your company seems larger than it might be and it's easier for them to recall. To be everywhere without canvassing billboards on every highway in town remarketing is the name of the game.
The idea is that when a potential customer clicks on an ad, or lands on your website without purchasing, you're going to advertise to them on Facebook, Twitter, Youtube and other websites with ad displays. 
You don't need a Google Analytics expert to run these campaigns either. The process is automated so you just need to have an Adwords account. See the instructions for setting up your first remarketing campaign. If you need additional help at a reasonable price, there are many freelance Adword marketing consultants available by the hour on freelance platforms such as Upwork and Fiverr.
6. Participate in Spirits Competitions
How do you keep your name in people's minds, expand your audience awareness, AND receive invaluable unbiased feedback about your product? One simple way is by winning a reputable spirit award. It is an easy way to catch the eyes of consumers passing through the grocery store and differentiate your product from the rest. 
However, not all spirit competitions are created equal.
The SIP Awards offers the ONLY spirits competition where your spirits will be judged by the consumers themselves in a controlled blind tasting. If you win a SIP Awards medal, you can:
Create a marketing campaign out of your win and celebrate the occasion with your base while letting the news sources in your community know of your accomplishment

Get your spirit brand in front of a curated group of 23,000+ spirit enthusiasts including consumers, distributors, and buyers in the SIP network

Receive invaluable feedback from consumers themselves about your product

Increase credibility for your brand with a medal earned solely on the merits of quality

Boost and reinforce brand awareness with existing and potential customers
Bonus: Build an Email List
What does the Los Angeles Times, Forbes, and that vegan artisanal soap blog have in common? They all have popups that encourage you to sign up for their email list.
Have you ever wondered why people care so much about the size of their email list? The number one reason is that these brands want to create their own audience who they can talk to on a regular basis. Having direct access to your target market is powerful because it is akin to having an audience waiting to hear you speak (versus advertising which is like handing out flyers to pedestrians on the street). 
With an email list you ask them directly gauge interest in new products, get feedback on existing products, and sell tickets to your events. You can also send announcements, news, and content directly to people who you know cares about your spirit. 
Besides, having real conversations with customers helps you create die-hard fans. 
For an A-Z guide on the in's and out's of building an email list from scratch and why every business needed one by yesterday, check out this guide put together by two industry leaders in the email marketing space Help Scout and AWeber.